Breathe easy. You've got support.
Health Support benefits
Resources
Understand your doctor's treatment plan and learn about asthma.
Education
Learn how medications may impact your lifestyle and health care costs.
1-on-1 support
Connect with a dedicated nurse who will help you avoid risk factors and manage symptoms, like coughing.
Call to get started 1-800-842-9492 TTY 711
24 hours a day, 7 days a week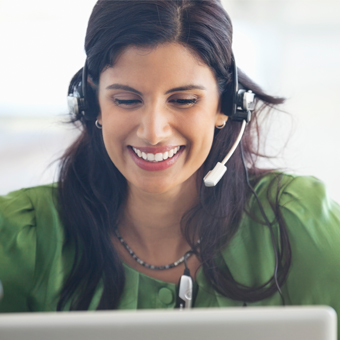 Find the steps you can take for meaningful results.
Strong relationships are key to success at UnitedHealthcare®. And that's why this program pairs you with a registered nurse for help managing asthma. As part of the Asthma Support Program, you'll partner with your nurse to find ways to help you live your healthiest life.
Together, you'll learn to identify and avoid asthma triggers, reduce risk factors, like smoking, and create an action plan centered around your unique needs. By working with your nurse, you'll learn how small steps can lead to big changes — and potentially better results.
Here's a preview of what you can expect.
---
Verify
To protect your privacy, your identity will be verified at the beginning of every phone call.
Learn
You'll work with a registered nurse to discover care options and find answers to your questions about asthma.
Plan
You and your nurse will work together to create an asthma action plan based on your unique needs.
Track
Together with your nurse, you'll track your progress and get the support you need, when you need it.
Call to get started 1-800-842-9492 TTY 711
24 hours a day, 7 days a week
Maddie's Asthma Story
"I love staying active. And I don't really think my asthma prevents me from staying active, as long as I control it the right way."
– Maddie, member
Video
MADDIE: My name is Maddie, I'm 18 and I was diagnosed with asthma when I was three. When I was younger, my asthma was really hard on me. I was in and out of the hospital. It was kind of a struggle for me because I didn't really know a lot about it, what was going on, but I knew that it was hard for me to breathe.
JANET: I'm Janet, and I'm Maddie's mother. For me, it was overwhelming when Madelyn was diagnosed with asthma. I had to educate myself about a lot of things that I was completely unfamiliar with.
SYMPTOMS
MADDIE: When I have an asthma attack I get really wheezy, my chest gets really tight, my shoulders will raise because it gets more difficult for me to breathe. The key to it is knowing how your body works.
TRIGGERS
MADDIE: Some things that trigger my asthma are molds, actions – so anything related to sports or running, pollen, dog or cat hair, dust bunnies, dust, anything like that. Some of the bad times of the year for me are fall and the beginning of winter, probably around the first snowfall, because of all the mold, the leaves are falling and it's starting to get a little more cold and musty outside.
PEAK FLOW METER
MADDIE: I use the peak flow meter to help monitor my asthma. A peak flow meter measures air flowing out of the lungs and how well a person's asthma is under control. Peak flow zones are based on the traffic light concept. Red means danger, yellow means caution and green means that you're safe.
JANET: The peak flow meter was helpful for me to know when things were getting out of hand. If I felt that the medication and the fast-acting inhaler wasn't doing its job and that we might need to go to some other action.
ACTION PLAN
MADDIE: For me, my asthma has been really well controlled as I got older and I think that's because of my asthma action plan. The plan itself is a sheet of paper that has the three steps written out. Same thing as the peak flow meter, it goes on a red, yellow, green system. It really lays out what you should be feeling in each stage and how you should prevent each one and how you should deal with it as you go.
MEDICATION (1:59)
MADDIE: Right now, I take a preventative medication in the morning. If I feel an asthma attack coming on, then I'll use my rescue inhaler. My rescue inhaler always works for me. I mean, I know when I'm getting really tight or if I'm having an asthma attack. That's what I'll go to right away.
STAYING ACTIVE (2:16)
MADDIE: Physical activity is one of my triggers, but my doctor has always encouraged me to play sports. I love staying active and I don't really think that my asthma prevents me from staying active as long as I control it the right way.
JANET: I'm impressed the way Maddie has handled her asthma. She is very aware she has asthma and she is very aware of her body.
MADDIE: It's not something that bothers me or kind of gets in the way. It's just a normal part of my life that I know that I need to be conscious of. I think it's almost helped me be more conscious of my body in what I do and don't need in terms of my asthma.
Learn the proven results behind this nationally accredited program.

93% of Asthma Support Program participants were satisfied or very satisfied with their nurse.

Source: Consumer Net Promoter Score® (CNPS) study, conducted by Optum on 1/4/17 – 3/31/17.**

At your service. By your side.

20+ years' experience. Many nurses in this UnitedHealthcare program offer more than 20 years of experience.

100% of your conversations and health information is kept confidential in accordance with the law.
Call to get started 1-800-842-9492 TTY 711
24 hours a day, 7 days a week
*Program available at no additional cost as part of your health plan to those who qualify for the program and are enrolled in an applicable UnitedHealthcare medical plan.
**Net Promoter, Net Promoter System, Net Promoter Score, NPS and the NPS-related emoticons are registered trademarks of Bain & Company, Inc., Fred Reichheld and Satmetrix Systems, Inc.
This program should not be used for emergency or urgent care needs. In an emergency, call 911 or go to the nearest emergency room. The information provided through this service is for your information only. It is provided as part of your health plan. Program nurses and other representatives cannot diagnose problems or suggest treatment. This program is not a substitute for your doctor's care. Your health information is kept confidential in accordance with the law. This is not an insurance program and may be discontinued at any time.
Insurance coverage provided by or through UnitedHealthcare Insurance Company or its affiliates. Administrative services provided by United HealthCare Services, Inc. or their affiliates. Health Plan coverage provided by or through a UnitedHealthcare company.